Treats & Toys
Chester have plaque accumulates at both side of his jaws and 1 or 2 months ago, I plan to bring him for scaling but because I'm so poor I cancel this idea until next time. Also I can't bare to leave him alone at the vet although he will be unconscious for about 5-6 hours. Now the plaque already seep near his gum and luckily no tartar yet.
There's this miracle treat called Greenies which guarantee that it can descrease tartar accumulation with a taste that pets love if given regularly. Actually I've given Greenies to Chester since he was small but I seldom buy because it is very expensive. My sister recently bought 2 pieces of Jumbo Greenies. There's Greenies sizes according to your pet size. So Chester is under the Jumbo category.

Greenies Jumbo which cost RM10+.
Yeah it looks like toothbrush. This pack below costs about RM40-RM50.

Yesterday I gave Chester 1 piece to munch which he took about 10 minutes to finish it all. Then I checked his teeth, walau 1 medium size plaque gone. Good good good. Greenies also have beautiful Christmas packaging and I promised myself to buy some for Chester. He deserved it. I also brush his teeth a couple of times in a week. I'll brush his teeth and then mine.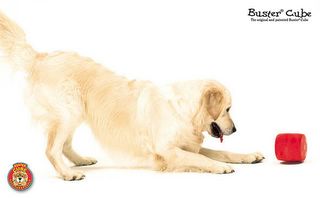 Buster Cube is also very expensive. RM80+ at Pet Safari Ikano Power Center.

There's one toy that I wish to buy for Chester a long time now. The toy name/brand is Buster Cube. This toy is shaped like a cube and you put treats inside and turn the cube so that the treats won't come out. The dog will have to find a way/plays to take out the treats(be rewarded). I read that this is a very simulating toy and for draining out excess energy from your dog.
I got to know this toy from pet's forum before I bought Chester. I searched for this toy until one day I found it at Pet Safari at Ikano. Wooww my eyes nearly pop out. It costs RM80+. Just yesterday I check out again to see whether this toy is still available or the price is cheaper. Hmmm it still cost that much and the box which house the Buster Cube is still dirty and abit torn. There's 2 of them and I think nobody wants to buy it cause it is very expensive. So now I'm hoping that come sales time they can sell it at 70%. Then Chester will be the proud owner of Buster Cube. Ahhhhhh
Right now Chester have soft toys(octopus and worm shape;both cotton come out and I havent sew back), 1 tennis ball(shrinked), 1 black Kong bone, 1 pink spiky bone, 1 ball(with bell-he dislike this the most), 1 squeeky M&Ms ball, 1 squeeky orange(his favourite toy at the moment;until he destroy it), 1 frisbee and 1 big ball.