My Ngau Cheong
He was my ngau cheong a long time ago. Ngau cheong means idol. Yeah you guess it, today I'm going to talk about my idol. I was looking at some old photos and saw this picture. Do you have an idol when you were in your childhood ? How about now ?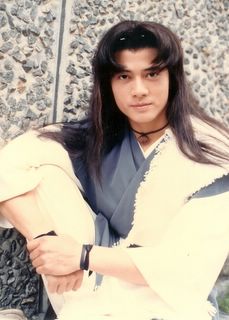 Aaron in Fung Zhi Tou's garment.

The guy in this picture is Aaron Kwok Fu Sing(isn't he handsome?).
He isn't my first idol. My first idol was Tony Leong Chiu Wai. I was in my extremely youthful days when I saw Police Story drama where Tony will always said 'CID, blah blah blah blah' whenever he catches bad peoples.
Then there's a guy in New Kids On The Block(NKOTB). Not Jordan Knight or Jonathan Knight or Donnie Wahlberg and not Joe McIntyre as well. He was Danny Wood. I was in Form 1 then and I dunno why the heck I choose Danny! I think I like his mouth(big). Now I think back hey Ruud Van Nistelrooy also have big mouth and he's my idol now. LOL. That time in Form 1, me and my gang(5 best friends) each choose an idol from NKOTB. One Friday(class on Friday are 1.5hrs later) we wrote a letter to NKOTB. We type on my mom's typewriter but alas did not send the letter. I end up keeping that letter and when I read back years later I gave myself a big SMILE
cause it was wonderful
.
Leon Lai was my next idol. This time I really think that I had fallen in love. But hey it was just one of my growing up process. Next will be Aaron Kwok. Yeah yeah I had fallen out of love with Danny and Leon. When it was Aaron I was already Form 4. I even bought Chinese magazine(fyi: I don't understand Mandarin & Chinese language) just for his picture. I watch every films, dramas and albums that he acted and sang in and bought plenty photos of him. That time I was so crazy man, the craziest thing that I had ever done at that time.
Then in my life after that he disappeared from my memory as well. From then on I don't idolized idol than I used to. One is because my new idols were not that good-looking. They are great actors and actresse which was and still are my dearest - Tom Hanks, Denzel Washington and Michelle Pfeiffer. Now my new(additional) idols are Van Nistelrooy, Matt Damon and Safin. God Bless Them All.
Hey let's share and tell me your current idol and your idol when you were little in the comment box.